Celebrating 50 years in 2017, Safety Services New Brunswick is the province's leading not-for-profit, charitable organization that is committed to health and safety education, training, consultation and advocacy where we work, live, and play.
---
Our Founder
The Board of Directors and staff are pleased to dedicate this page to the memory of Gladys E. Beattie (1925-1988).
Mrs. Beattie's commitment and dedication resulted in the founding and development of Safety Services New Brunswick (formerly the NB Safety Council Inc). Her emphasis on safety in the public domain and on the job still flourishes today and continues to steer the Council's work toward its motto of 'making safety a way of life'.
This photo was unveiled on March 13, 2000 by the Honourable Marilyn Trenholme Counsell, Lieutenant Governor, Province of New Brunswick at the official opening of the Gladys E. Beattie Memorial Training Center.
50th Anniversary News

I am proud to acknowledge Safety Services New Brunswick's (SSNB) 50 years of service and thank everyone who joined us to celebrate the many milestones and successes that we have achieved. Safety Services New Brunswick has evolved in so many impactful ways since its founding in 1967 as the New Brunswick Safety Council Inc.; however, one thing has remained the same, "SAFETY." For 50 years, SSNB has been relentlessly committed to the health and safety of New Brunswickers and the communities in which we all work, live and play through education, training, consultation and advocacy. SSNB continues to strive to make our communities safer, every day.
Yours in safety,
Bill Walker, President & CEO
June 8, 2017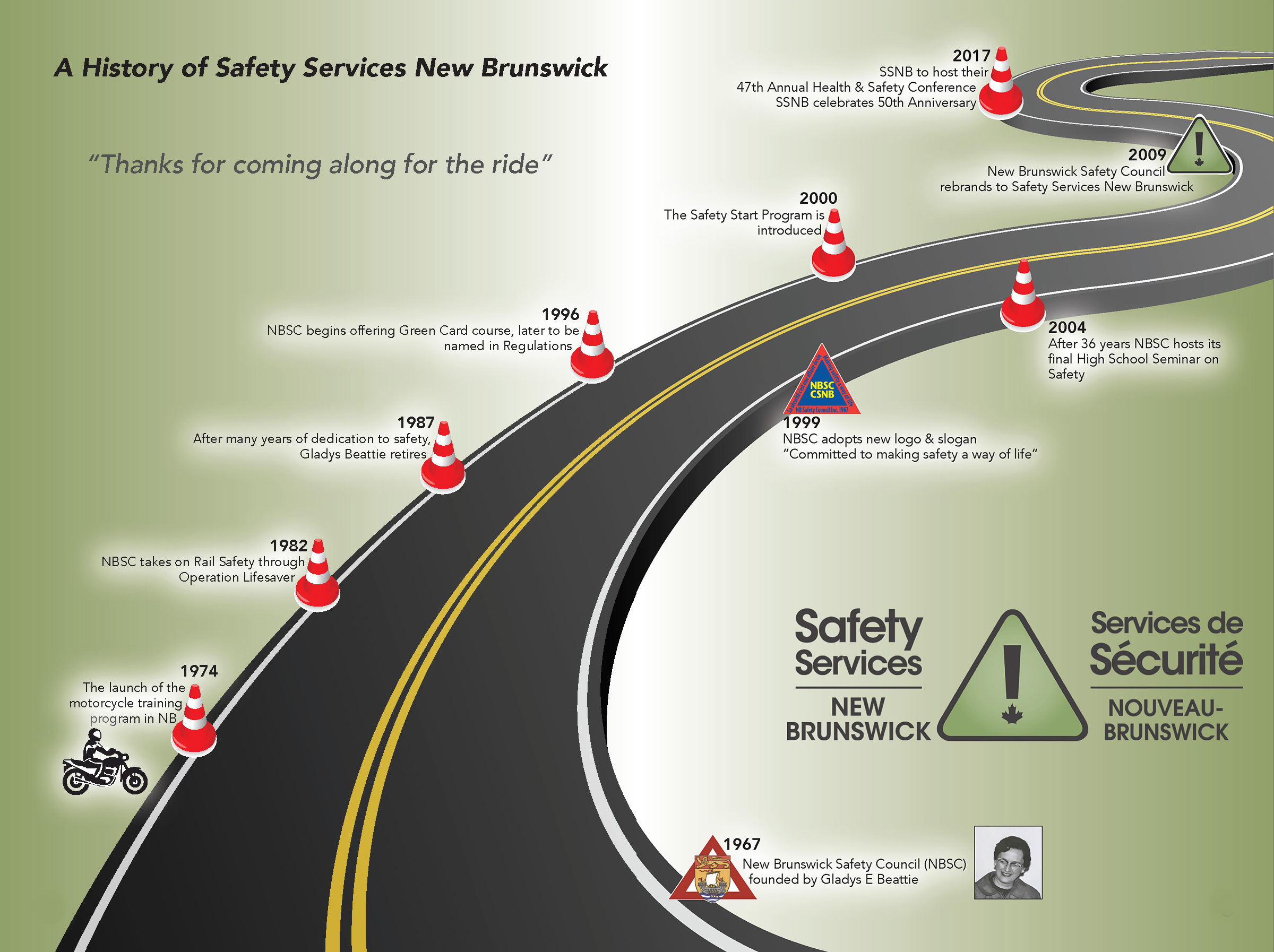 Become a Member
For over 50 years Safety Services New Brunswick (SSNB) has been a driving force in New Brunswick, eliminating injuries and fatalities by assisting individuals and organizations alike to hold safety training courses or developing safety programs to obtain a common safety goal. SSNB's members receive discounts on training and other benefits.